Our generous donors have contributed 76% of the cost to pay tuition, fees and books for an unprecedented fourth term in Kenyan schools. The government added a fourth term for this year only so students could catch up for eight months of missed classes during the Covid-19 pandemic. Seeds needed to raise $42,000 to educate our 73 students in K-12. We only need $10,000 more to pay for all of our students. Please donate here or purchase our new tote bags and other items.
Seeds Students and Supporters Sew Beautiful Tote Bags
Seeds supporters Helen Worthan and Pastor Heidi McGuinness raised funds in Nebraska to pay for two large sewing machines to buy in Kenya. They taught sewing to interested students this summer. Now, you can have one of these beautiful tote bags made of Kenyan fabric for a donation of $25, including shipping.
To order, Select Tote Bags on the pulldown menu under Online Donations on the Donate Page. Then select Other and type in $25 for each bag you would like to order.
Kenya Adds 4th School Term, Creating Financial Strain
To make up for lost schooling due to COVID school closures, the Kenyan Education Ministry has added a fourth term for 2022, without reducing the cost for the shortened three terms!  The new fourth term with tuition, room and board will cost Seeds $42,000 for the 2022 calendar year.  This new reality means Seeds cannot evacuate and educate any more Kakuma refugees until this cash-flow crunch is rectified. Seeds will continue to evacuate children for medical emergencies, but all other new sponsorships are on hold.
You can help Seeds with this financial challenge by making a donation or purchasing one of the items below.  Suggested donation amounts for the books and cards include shipping.

Lost and Found: The True Story of Arok Garang, One of the Lost Boys of Sudan
Tells the gripping story of our founder, who had to flee for his life when his village burned.  Illustrated with beautiful water colors, the 32-page book is suitable for children. Suggested donation is $20 per book, including shipping. On the Donate page, scroll to 'Changing Children's Lives" and select the $20 button. Next, under where to direct your donation, select "cards and books" from the pull-down menu. Then write "Arok book" on the blank line.
Greeting Cards
These 5 x 7 inch cards are blank inside and come with white envelopes. Send Education is Love in Action to a teacher, a book lover or parents.  Love Helps Hope Take Flight is a perfect card for Valentines Day or any time you want to let someone know you are thinking of them.
Your $25 donation buys a packet of six cards and envelopes, three of each design.
Select Cards and Books on the pulldown menu under Online Donations on the Donate Page. Then select Other and type in $25 for each set of six greeting cards you would like to order.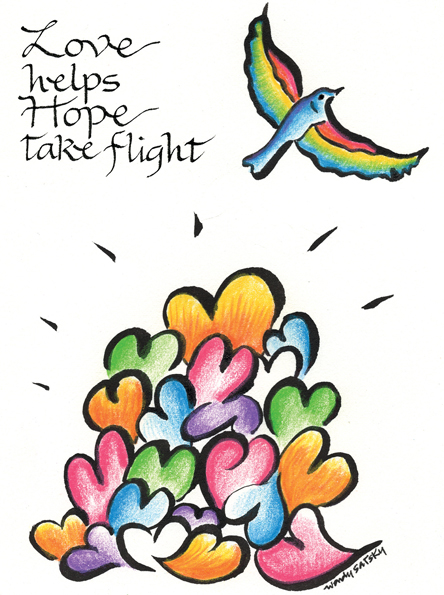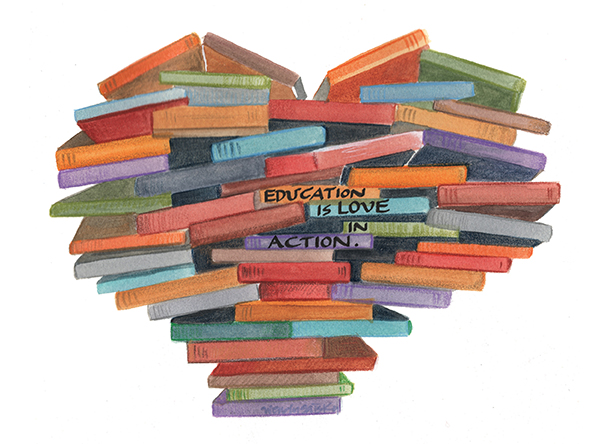 Note Cards
These new cards by Wendy Satsky, talented watercolor artist and Seeds board member, can be purchased in sets of 10 of a single design with white envelopes.
The notes are 5.5 x 4.25 inches for sending a brief note to someone. Select Cards and Books on the pulldown menu on the Donate Page. Then choose $20. On the blank line, indicate that you want the Thank You notes.
Thank you for your support!
Thanks to a generous donation from Brian Counterman from Counterman Insurance.
100% of your purchase of Thank you notes goes to Seeds of South Sudan.