Help Transform the Lives of South Sudanese Orphans
Founded By 'Lost Boy of Sudan', Now Educating 100+ Orphans
With the support of American donors, Seeds rescues South Sudanese refugee orphans from the crowded Kakuma Refugee Camp in Kenya. They join the Seeds family and are educated in boarding schools in Kenya. The students are selected based on recommendations and an interview in Kakuma.
Joining the Seeds of South Sudan family is life-changing. Our students receive three meals a day, medical care and an excellent education in Kenyan boarding schools. See Aguil's transformation from 2007 to 2019 below by dragging the slider to the right to see her in Kakuma. Drag the slider left to see how she looks today as a confident, accomplished teen in high school.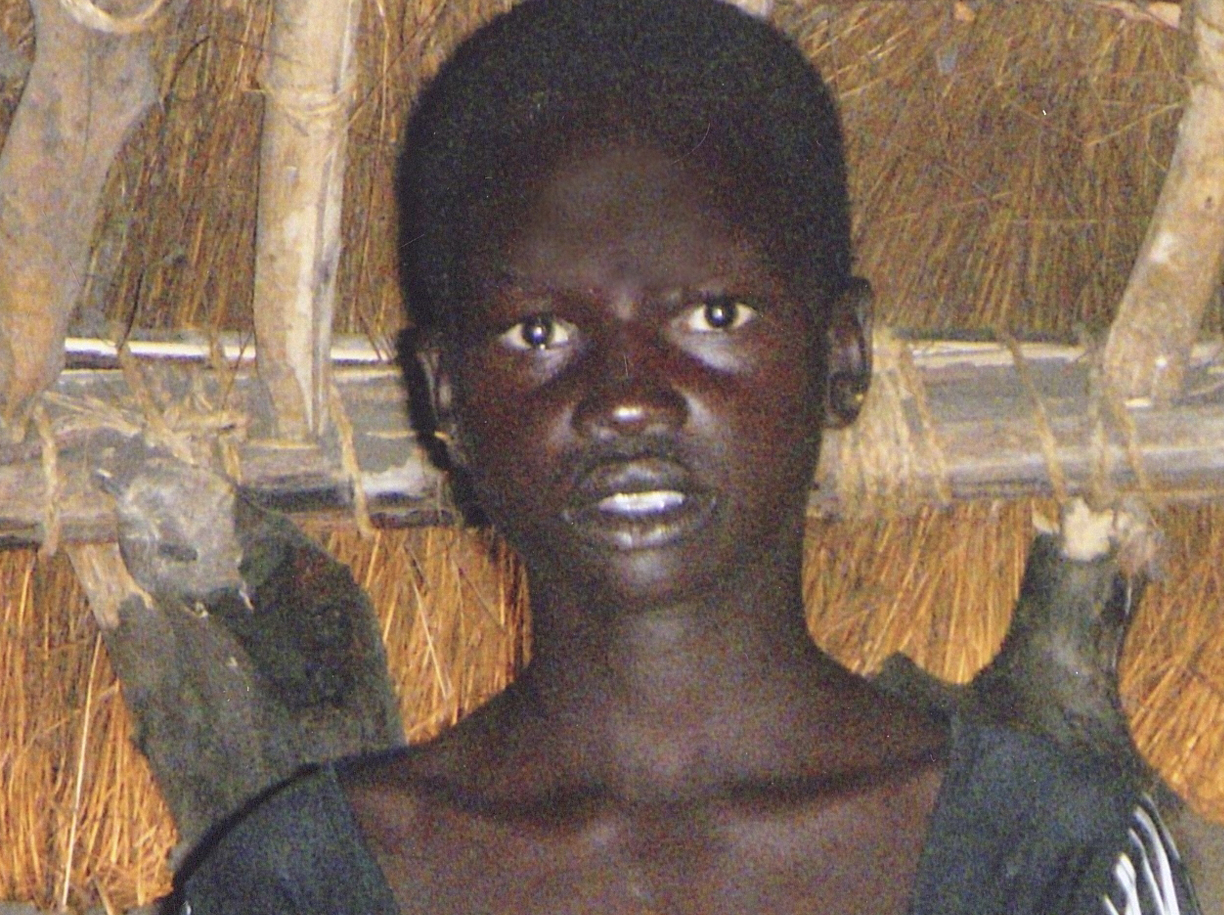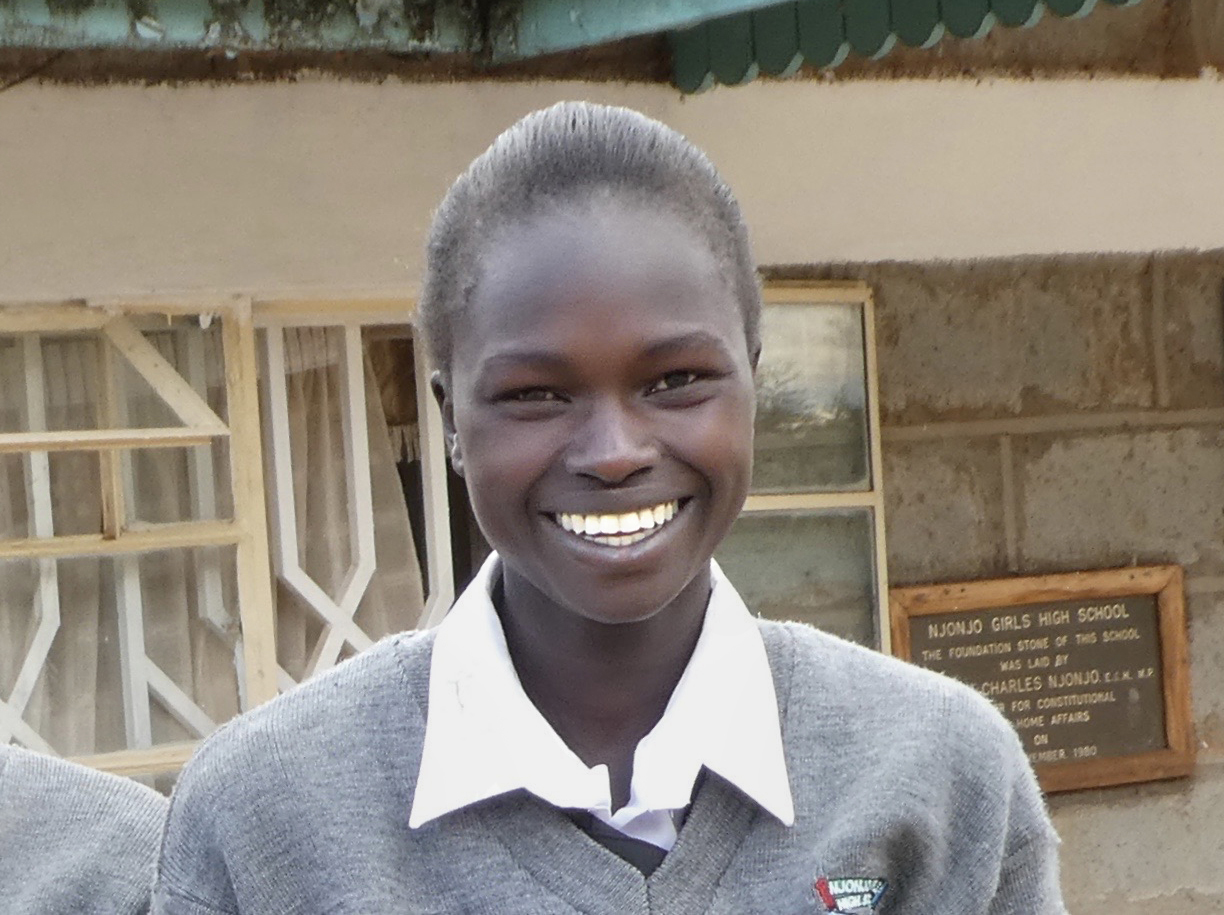 Sponsorship of $150 per month covers tuition, room and board at Roots Academy (K-8) or one of the high schools in Kenya. Any donation helps meet our students' needs.
Please click here to Donate and to help our students or consider sponsoring a student. You can help our high school graduates continue their education or contribute to rescue and sponsor more children from the Kakuma Refugee Camp. Your donation is fully tax deductible.
Celebrating Our First University Graduates!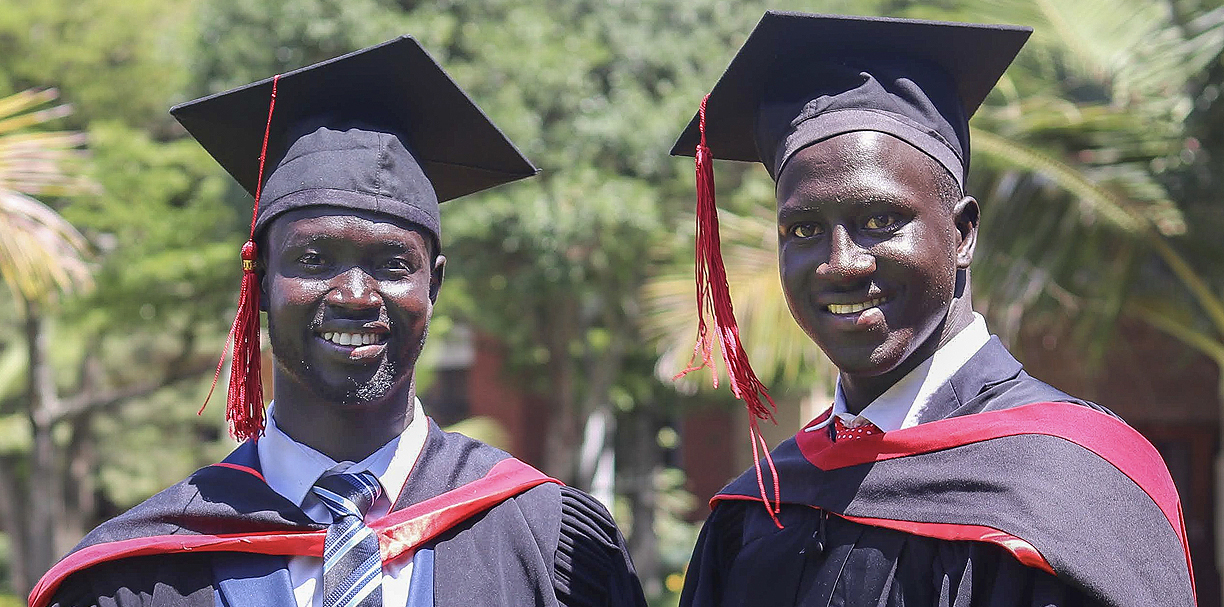 Congratulations to Garang Manyok Giet (left), and Dau Machar Jok, Seeds first University Graduates!
Dau and Garang each received a Bachelor of Arts in Theology from Africa International University in late November. They are now tutoring the younger students at Home Base. They will travel to South Sudan in early 2021 and hope to teach at a local seminary there.
Buy Greeting Cards to Help Bring Our Graduates Home from South Sudan
Before the pandemic, 18 Seeds high school grads traveled to South Sudan to volunteer in schools. When Covid closed the schools and border, they helped the community. Then flooding forced them to move. Four older grads traveled there in 2017 and have not been able to find jobs.
For their safety, it is time to bring all 22 students back to Nakuru, Kenya. The cost will be about $13,000, which includes travel, medical exams, new clothes, and other expenses.
To raise these funds, we are selling sets of beautiful, unique, all-occasion greeting cards designed and painted by Seeds board member Wendy Satsky.
Education is Love in Action shows a stack of books in the shape of a heart. It would be a perfect Valentine card for a teacher or book-lover.
The cards are available for a suggested donation of $25 for a packet of six cards and envelopes, three of each design.
Love Helps Hope Take Flight shows a colorful bird rising from a mountain of hearts.
To see the cards, click here  and get instructions for using our donate page. Remember to tell us how many packets you wish to receive.
Seeds and the Pandemic
The 68 Seeds of South Sudan K-12 students safely sheltered in place at Home Base in Nakuru, Kenya from March through December. Older students taught their peers and younger students in math, science, English, history, Christian Religious Education and Kiswahili, the local language in Kenya. Primary and secondary schools reopened to in-person learning in January 2021.
Eighteen Seeds high school graduates traveled to South Sudan in February to volunteer in local schools and see their homeland. Since COVID-19 hit South Sudan, they first stayed in a safe area, helping with raising cattle and other chores. The graduates had to move due to local flooding. Some have tried to find other volunteer teaching jobs. The high school grads will return to Kenya once the border reopens between South Sudan and Kenya.
Three high school graduates traveled to Kakuma Refugee Camp in 2020 to be volunteer teachers to the thousands living there. One medical student volunteered in the pharmacy for several months in 2020. Two of these high school grads are also staying at Kakuma while the roads are closed. Please pray for the safety of all of our students!
Over $400K Donated
Once schools closed, Seeds faced more expenses to feed the students, for utilities and for medical bills for illness and injuries. Please donate to help us meet these unexpected costs. click here to see how you can help.Thank you!/p>
Volunteer Your Time
We are always looking for great people to help our cause. Please click here for more information on volunteering.
Chol Mayen

Broz

2018-03-10T04:34:45-07:00

Alek Garang

Broz

2018-03-10T03:24:29-07:00

Ayuel Warabek

Broz

2018-03-10T04:31:11-07:00

Aleer Deng

Broz

2018-03-10T04:36:59-07:00

Ayuel Warabek

Broz

2018-03-10T04:00:35-07:00

Mamer Bior

Broz

2018-03-10T03:08:51-07:00

Thuch Mawut

Broz

2018-03-10T03:16:55-07:00

Alek Garang

Broz

2018-03-10T04:42:43-07:00

Ajak Abuoi

Broz

2018-03-10T04:41:38-07:00

Amuor Atem

Broz

2018-03-10T04:38:17-07:00

Jok Machar

Broz

2018-03-10T04:30:05-07:00

Aleer Kuir

Broz

2018-03-10T03:25:57-07:00

Deng Dhieu

Broz

2018-03-10T03:22:10-07:00

Alek Mawut

Broz

2018-03-10T04:43:58-07:00

Thuch Majak

Broz

2018-03-10T03:10:27-07:00

Amuor Atem

Broz

2018-03-10T04:39:45-07:00